Mrs Shah 88 yrs from Two sticks to No Stick after Soft Ware guided Navigation and Absolute Precision Total Knee Replacement in the hands of Mumbai's Best Knee Replacement Surgeon Dr Santosh Shetty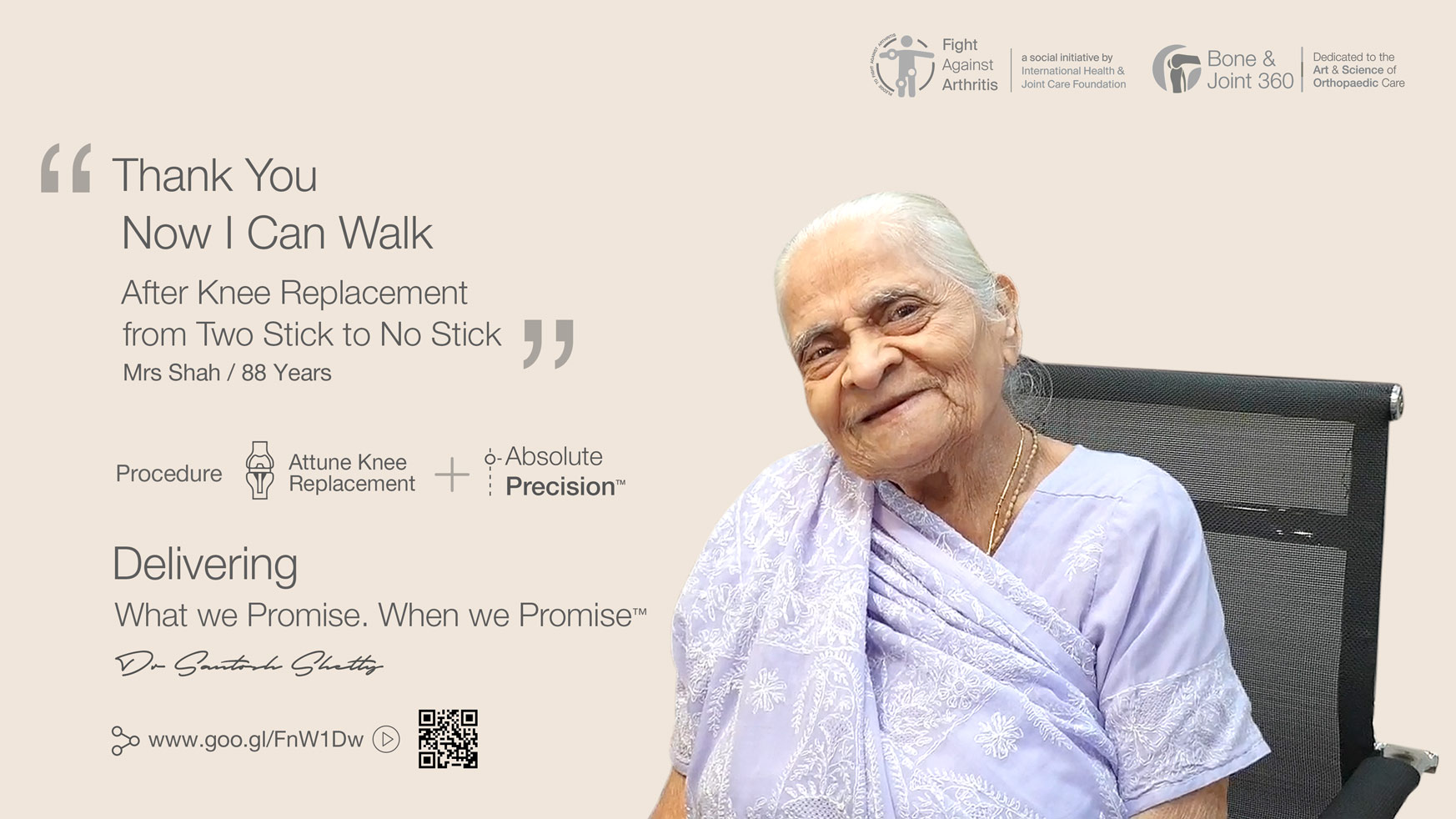 Mrs Shah around 5 yrs back used to walk with not one but two sticks before meeting Dr Santosh Shetty a Leading Joint Replacement Surgeon from Mumbai.
She had traveled from Pune to Mumbai to her Son in Mumbai and had come to see Dr Santosh Shetty for her Knee Pain.
She had come to consult to take some medicines for her knee pain so that she could travel back to Pune.
Mrs Shah still remembers that, 5 yrs back when she met Dr Santosh Shetty she was completely reluctant to do any kind of Surgery and was walking with two sticks but felt absolutely comfortable and reassured that she was in safe hands once she met Dr Shetty and took a decision of getting herself operated.
So relieved were her family members by this decision as they always knew she required a surgery but she was the one not willing for surgery. Mrs Shah underwent Knee Replacement Surgery under Dr Santosh Shetty in Surana Hospital Malad around 5 yrs back and started walking with one stick and was so relieved that she came back again for the second leg after a yr and got the other Knee Replacement done.
Today it's been 5 yrs and she has all smile when she meets her doctor and looks forward for her annual check up where she gets to meet her Surgeon, Dr Santosh Shetty. She has a special place for Dr Santosh Shetty in her heart and she prays for his success and his health every day says her Son.
Over the period of past 5 yrs Mrs Shah who is now 88 is enjoying a Pain Free Life and is also active and has traveled to multiple places of Pilgrimages of which she has been to Shreenathji a wish she had for many years.
She and her Relatives are happy to see her without two sticks and her doing things on her own without help from anybody.
Dr Santosh Shetty Director of Orthopedics and Joint Replacement Surana Group of Hospitals said that in Advanced Arthritis Surgery is inevitable but the challenge is to take away the fear of Surgery and make surgery acceptable. With proper time given to a patient in the consulting cabin this can be achieved by addressing the fears in the mind of the suffering patient.
Dr Shetty added that once the fear is addressed Best Results can be achieved and assured with minimal Complications in such Elderly pts with Absolute Precision and Soft Ware guided Navigation which reduces the risk to life in such elderly patients by reducing the risk of Embolism.
He strongly believes when technology is properly used to Aid a Surgery best outcomes and results can be expected in a Safe hands of a Experienced Surgeon.
Mrs Shah at 88 is one such story of a Pt severely Crippled with advanced Arthritis regaining her complete painless mobility with Absolute Precision and Navigation.
#Adding Miles To Life
#Software Guided Knee Replacement
#Computer Assisted Navigation Surgery
# Total Knee Replacement
#Absolute Precision
#From two stick to no stick
#Freedom from Knee Pain
#Life at 88 after Knee Replacement